Maker Special Products Polishing Tools
Wheststones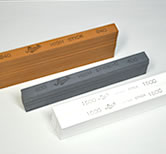 High-stick Whetstone
Jimk's original product

Resin (brown), carbon (gray), and white alundum (WA) (white) types are available.
The High-stick Whetstone is of uniform quality that allows the smooth performance of the next process. A lineup of #180 to #1000 models is available.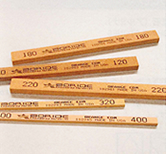 Whetstones for Electric Discharge Molding (EDM)
BORIDE Engineered Abrasives

AS-9 EDM
CS-M carbon
Supports a variety of processes, ranging from rough finish to final finish.
Ceramic Whetstone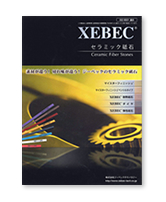 Meister-finish and Meister-finish pencil type
XEBEC Heat-resistant Whetstone, XEBEC Diamond Whetstone, and XEBEC Elastic Whetstone
XEBEC TECHNOLOGY CO., LTD.

XEBEC's ceramic whetstones differentiate others in material and sharpness.
XEBEC has a lineup of a variety of ceramic whetstones for a wide range of applications.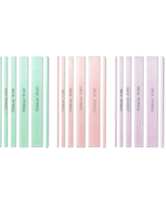 Cristone Stick
SOWA Co., Ltd.
The Criston is a ceramic fiber magnet of the highest quality made from carefully selected materials. The crystal purity of the Criston is so high that the Criston provides unprecedentedly high-quality grinding performance and finish. The binding force of the crystals in microns is strong, which realizes a high bending strength.
HYPREZ Mold Wraps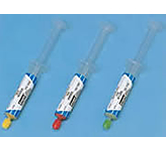 HYPREZ Diamond Paste
ENGIS JAPAN Corporation

W-type Diamond Paste: Water-soluble paste that can be washed away with ease after polishing.
OS-type Diamond Paste: Oil-based paste.
L-type Diamond Paste: Suitable for drawing dies and heading dies.
Alumina Oxide
EDM Series
Gesswein

The EDM Series is of general-purpose type attaching importance to ease of handling. The two-pillar structure of the EDM Series ensures accuracy while the base of the EDM Series is designed with consideration of ease of use by hand.

The EDM Series is provided with a character height of 10 mm for count display and the following functions: Zero set, hold, preset, rough/fine movement selection, supply voltage drop alert, and over-speed alarm.
NIHON SEIMITSU KIKAI KOSAKU Co., Ltd.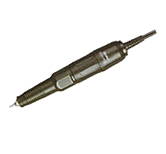 Leutor Gold Ⅱ


A mini pen-class prices with mini gold-class high power.
Provided with a carrying handle for ease of transportation.
One-touch connection/disconnection function.


Specification:


Rotation speed with no load: 4.000 to 38.000 min-1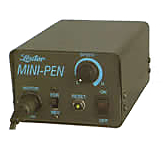 Power Unit
Specifications:
Supply voltage: 100 V at 50/60 Hz
Rated input: 35 VA
Fuse: 2.0 A
Weight: 2.3 kg
Nakanishi Inc.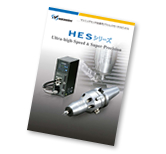 HES Series

HES-series brushless motor spindles exert power for small-diameter drills and small-diameter end mills that are 2.0 mm or less in diameter.

Specifications:
Max. rotation speed: 50,000 min-1 (HES510) and 80,000 min-1 (HES810)
Max. output: 250 W (HES510) and 350 W (HES810)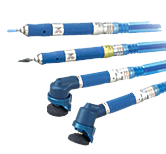 ECOMO Series


ECOMO-series NK micron chucks are designed in thorough pursuit of shaking density

Lineup

Φ3.0 mm (standard accessory sold together)/NKM 6-3.0
Φ2.35 mm/NKM 6-2.35
Φ3.175mm/NKM6-3.175

The ECOMO Series incorporates a safely designed easy-to-hold rubber clip, weighs as light as 100 g, provides powerful torque, and allows ease of lubrication at hand. The user-friendly design of the ECOMO Series ensures safety and outstanding accuracy.
Nitto Kohki Co., Ltd.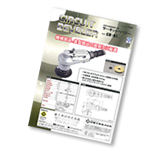 Circuit Beveller


The Circuit Beveller is a pneumatic-type curve chamfering machine ideal for the chambering of machine parts and mold parts.
UHT Corp.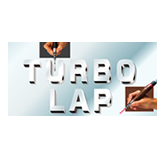 Turbolap


The Turbolap is a compact polishing tool powered by compressed air.


Unlike micro grinders, a turbine motor drives the Turbolap.

This product is a dedicated tool used to polish molds.